2021 Rotary Fundraiser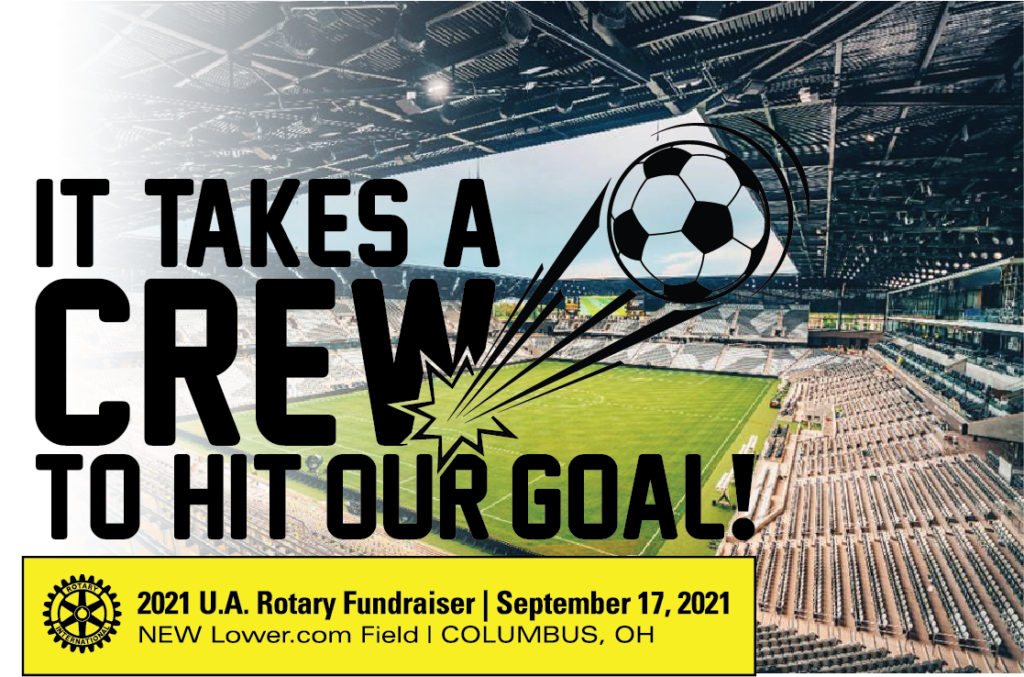 96 Columbus Crew Way
Columbus, OH 43215
Friday, September 17, 2021
5:15-9:30 PM
It's going to be a great time for "our crew" to hit our fundraising goal this year! Please come with your spouse or significant other, and we hope you'll bring your friends. Group tours are available from 5:15-6:15.
Members and spouses participate free of charge; the guest charge is $100.00 each. All charges are billed through your Club Charge, except for the cash bar.
Free parking/valet parking is available on the north side of the stadium. Dress is business casual/casual – after all it is a soccer stadium!
We look forward to seeing you there!
UA Rotary 2021 Silent Auction
This year's silent auction will be held online and in-person. Bids will be accepted beginning Friday, September 10th at noon and bidding will be closed the night of our fundraiser Friday, September 17th at 9:00 PM.
Donate a silent or live auction item or sponsor the event here
Visit our silent auction site here
Event Schedule
Friday. Sept 17th
5:15 – Doors Open
• Bar Opens
• Silent Auction Continues
• Lower.com Tours through 6:30
• Light hors d'oeuvres served
6:30 
• Buffet Dinner – Begins
• Desert
7:30
• Welcome – Joe Valentino, UA Rotary Club President
• UA Rotary Foundation Update – Debbie Johnson, UA Rotary Immediate Past-President
• UA Rotary Foundation Video
• Special Guest/Speaker Introduction – Dr. Pete Edwards
• Raffle drawing – Jeannine Hummer
• Live Auction Begins – Bill Hosket
• Night of Zacapa – Steve Sandbo & Dave McCurdy
8:30
• Live Auction concludes
• Silent Auction continues
9:00
• Silent Auction Closes
• The winners pick up their items
9:30
• Thanks for coming – Event Ends